Improve the look, condition, and longevity of your office's carpets with our office carpet cleaning service.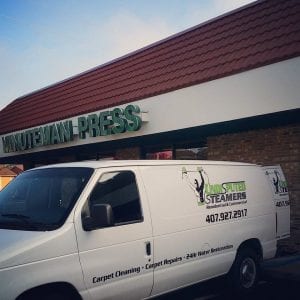 Are you in charge of the care and maintenance for an office? Much of the basic cleaning can be done yourself or left to an office cleaning provider. However, there are certain tasks that may not happen as regularly that require specialization. One of those tasks is office carpet cleaning. You may not typically think about getting office carpet cleaning unless you've had a spill or other incident that calls for it, but regular carpet cleaning can be very beneficial. Not only will a good quality carpet cleaning remove dirt and grime, but having your carpets steamed can also:
Deodorize unwanted odors
Sanitize and prevent the spread of bacteria and allergens
Extend the lifespan of your carpet
Improve air quality
Prevent mold growth
With all of these benefits considered, regular office carpet cleaning is well worth the investment. If your office is in the Orlando, Florida area, you can turn to our team at Undisputed Steamers for a job that will be done right and at the right price. We show up on time and get straight to work, providing you with a quality clean unlike any other. We provide excellent service and thorough and efficient cleaning. Along with carpet cleaning, we can also provide you with upholstery cleaning for all of your office furniture to make sure your entire office is clean, safe, and attractive for your employees and any patrons visiting your office.
Keeping Florida Clean one Steam at a time!
To get more information about our office carpet cleaning, give us a call today.
---
At Undisputed Steamers, we offer office carpet cleaning services in Orlando, Pine Hills, Winter Garden, Apopka, Winter Park, Lake Buena Vista, and the rest of Orange County, as well as Kissimmee, Altamonte Springs, Clermont, Sanford, St. Cloud, and Mt. Dora, Florida.