You won't hesitate to use your furniture when you know you can rely on us for high-quality furniture cleaning.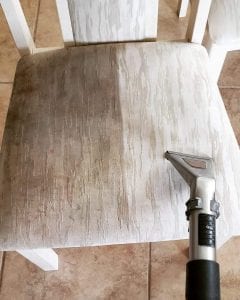 The furniture we put in our homes or offices typically serve two purposes. One is their basic function and the second is as a design element to help you achieve a specific look. If you have fabric couches and chairs, then you may have had trouble with the fact that using them can cause them to look dull and less appealing. But what is the point of having good furniture if we can't use it? If you're in the Orlando, Florida area, you don't need to worry about stains and dirt ruining your furniture thanks to our high-quality furniture cleaning service here at Undisputed Steamers.
When you come to us for furniture cleaning you will be pleased with the many benefits that come from our service. Our steaming services removes stains, helping your furniture to look good as new. It also sanitizes and removes bacteria. Finally, if pets or other problems have left your furniture with unpleasant smells, our furniture cleaning service will deodorize your couches and chairs to eradicate the smells.
Why choose us for furniture cleaning? Our team is committed to your satisfaction. We will show up on time and get straight to work on cleaning all of the furniture pieces you request. Our work is thorough and detailed, and we always do the job right the first time. We offer superior service at a fair and competitive price. We know that your furniture is often an investment that you want to last for many years, so we want to help you keep it in top condition. Along with furniture cleaning, we also offer carpet cleaning and water extraction services. Give us a call to schedule your furniture cleaning today.
---
At Undisputed Steamers, we offer furniture cleaning services in Orlando, Pine Hills, Winter Garden, Apopka, Winter Park, Lake Buena Vista, and the rest of Orange County, as well as Kissimmee, Altamonte Springs, Clermont, Sanford, St. Cloud, and Mt. Dora, Florida.