Keep your carpets clean and presentable with our office carpet cleaning services.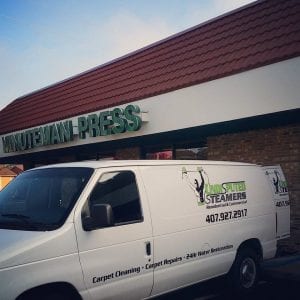 The carpets in your office likely receive a lot of foot traffic as employees come in and out of the space all day. So much foot traffic can cause a quick buildup of dirt, grime, and bacteria that can make your carpets look less than presentable. You can keep them more presentable and cleaner with regular cleaning. If you are in the Orange Country, Florida area, you can rely on us at Undisputed Steamers to make the best of your carpets with our office carpet cleaning services.
We understand that time is valuable in the workspace, especially when it's an office space where people are constantly coming and going. Rather than disrupting your workflow, we can set an office carpet cleaning schedule that will keep any disruptions to your workday to a minimum. We can also schedule all other office cleaning services for that same time, so we can get them done all at once if that is what works best for you. We can handle any carpet cleaning, upholstery cleaning, or tile and grout cleaning you may need for your office.
Even if you don't pay close attention to your carpets as you walk on them, they can still harbor dirt, grime, dust, and even mold that can affect the air quality of your office space. Poor air quality can also affect the productivity and health of your staff. Office carpet cleaning could be just what you need to boost the cleanliness of your office, productivity, health, and overall mood of everyone in the office.
We will work hard to be as thorough as possible and provide the cleanest results for your carpet by the time we're done. The best part is that you get all these benefits of a clean carpet while keeping the services within your budget. That way, you can feel comfortable scheduling carpet cleaning services as often as you need without breaking the bank.
Keep your carpets clean and presentable with our office carpet cleaning services. Give us a call to schedule our services today.
---
At Undisputed Steamers, we offer office carpet cleaning services in Orlando, Pine Hills, Winter Garden, Apopka, Winter Park, Lake Buena Vista, and the rest of Orange County, as well as Kissimmee, Altamonte Springs, Clermont, Sanford, St. Cloud, and Mt. Dora, Florida.